Humanity at Work – Poems in Business
Simon Barrow
Direction Forward, May 2018, ISBN: 978-1549946967
£15.00 plus UK P&P (£2.50)
Simon Barrow's latest publication brings his concept of the Employer Brand approach to people management into the world of poetry. The issues of leadership and employment remain absolutely central. He writes about organisations, brands, people and management thinking- memorable behaviours and incidents which many will recognise but seldom read about. The poems blend reality with advice – above all the warning that business problems, even tragedies, are so often the result of failure to understand feelings, attitudes, relationships and the behaviours which result. Some leaders realise too late that 'the soft stuff is the hard bit'.
These poems cover corporate values, leadership, confidence, humility and the management of major change such as M&A. Organisations include Mercedes-Benz, American Airlines, Timberland, Anchor Butter, Conde Nast, Carnival, the American Army, the British Army, The NHS, Carnival, Frank Cooper's Oxford Marmalade and the White Star Line (responsible for the loss of the Titanic). Poems about people include Rupert Murdoch, Tony Blair, Salman Rushdie, Lord Fink and the late Sir Christopher Bland.
---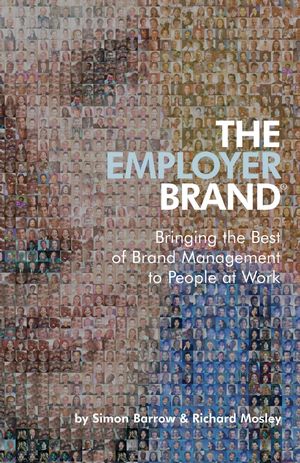 The Employer Brand: Bringing the Best of Brand Management to People at Work
Simon Barrow and Richard Mosley
Wiley, September 2005, ISBN: 978-0470012734
Levels of 'employer brand awareness' are rising fast across Europe, North America and Asia-Pacific, as leading companies realise that skilled, motivated employees are as vital to their commercial success as profitable customers and apply the principles of branding to their own organization. Starting with a review of the pressures which have generated current interest in employer branding, this definitive book goes on to look at the historical roots of brand management and the practical steps necessary to achieve employer brand management success – including the business case, research, positioning, implementation, management and measurement. Case studies of big-name employer brand stories include Tesco, Wal-Mart, British Airways and Prêt a Manger.
---
Employee Communication During Mergers and Acquisitions
Simon Barrow and Jenny Davenport
Routledge, September 2009, ISBN: 978-0566086380
Communication is the key to organisational success and nowhere is this truism more apparent than in the influence of internal communication during a transformational process as dramatic as a merger or acquisition. During the complex process of bringing the two sets of employees together, continuous effort is crucial for keeping in touch with how people feel; communicating information clearly across both bidder and target; and beginning the process of creating a new culture for the merged company. Employee Communication During Mergers and Acquisitions provides a blueprint for your internal communication during a merger or acquisition, it contains checklists, examples and tables to help busy communication and integration teams by providing them with practical guidance and examples of what they should consider. The book includes chapters exploring the process of developing the employer brand for the new entity as well as of measuring and building on the success of your strategy and is illustrated throughout by a range of case studies.